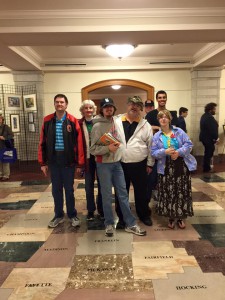 At SPARK Worthington we serve Franklin, Delaware, and Union county. We provide a wide array of services and supports to adults and transitional age youth. The purpose of our program is to help individuals with developmental disabilities in a way that is unique, individualized, and that offers learning through different ventures.
The SPARK Worthington team includes Autism Certified Professionals, Vocational Habilitation Trainers, Recreational Therapists, Special Education Teachers, Job Coaches and Cultural Art Instructors. Our team of professionals assist individuals in creating a unique dynamic that is person-centered and allows for the individuals we serve to have ownership of the programming they receive.
SPARK Worthington has vocational training opportunities through our ventures with Dine and Dash, Studio SPARK, and SPARK Employment Strategies. With these activities, individuals have the chance to work on hard skills and soft skills along with hands on learning in the community to gain community membership. These programs evolve to fit the specific needs and desires of the individuals.
SPARK Worthington
760 Lakeview Blvd; Ste. 525
Worthington, Ohio 43085